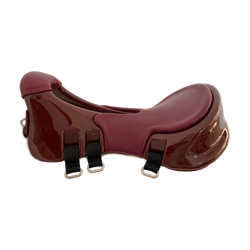 Contact- Bordeaux
$1,016 (excl. VAT)
$1,499 (excl. VAT)
Product Details:
The saddle structure is built with flexible registered plastic and the seat and the pummel are covered with pure Italian leather, with stainless steel hardware to attach horse accessories. Its construct is further honed by applying multiple coats of paint to supplement strength and durability.
Registered plastic, as the core material, provides the needed flexibility along with a durable structure. The saddle is most suited for Endurance domains and is recommended for experienced riders.
The glossy and smooth surface of the plastic adds a touch of elegance in its tough structure and the leather seat provides comfort and additional cushioning.
The design aids in unrestrained movement and provides a sense of absolute control allowing a synchronized movement with the horse.
Please note that the Contact saddle in black color is at a higher price due to the extra coat of paint required for this model.

Weight:

 

1 kg.
Cantle Height:

 

Low cantle.
Materials: Flexible Registered Plastic.
Seat:

 

Leather.
Domains:

 

Endurance.
 NOTE:
1. The saddle comes with Biothane Saddle Straps.
2. The height of the cantle depends on the preference of the rider. A high cantle offers a deep and secure seat that helps ride in suspension and encourages a good posture. A low cantle has a shallow and flatter seat that allows easy maneuverability and more movement.
3. Additional weight up to 9 kg can be added to the saddle with an extra price of €10/kg

Shipping Worldwide

Returns Worldwide

12-Month Warranty

100% Secure Checkout