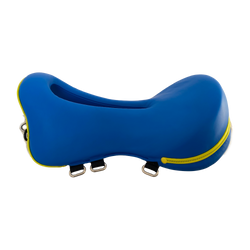 Balente B- Royal blue with fluorescent yellow border
$1,016 (excl. VAT)
$1,455 (excl. VAT)
Product Details:
One of Setzi's top sellers.
The saddle structure is built with flexible registered plastic and covered entirely with pure Italian leather, with stainless steel hardware to attach horse accessories. Balente was one of our first designs and has been the ideal choice for Endurance and long distance riding.
The plush and smooth surface and the sporty design add to its elegant and classy appearance while the registered plastic build provides the needed flexibility and a strong structure. The elongated hole in the middle keeps the pressure off the delicate tissue in the pelvic part as well as keeps the horse's back properly ventilated and dry.
The design of Balente B facilitates free, unrestrained movement and close contact with the horse. The model has a low cantle with a shallow and flatter seat that allows easy maneuver and promises a comfortable and enjoyable ride.

Weight:

 

1.5 Kg
Cantle Height:

 

Low cantle
Materials:

 

Flexible Registered Plastic and leather
Domain:

 

Endurance
NOTE:
The saddle comes with Biothane Saddle Straps.
The height of the cantle depends on the preference of the rider. A high cantle offers a deep and secure seat that helps ride in suspension and encourages a good posture. A low cantle has a shallow and flatter seat that allows easy maneuverability and more movement.
Additional weight up to 9 kg can be added to the saddle with an extra price of €10/kg
Shipping Worldwide

Returns Worldwide

12-Month Warranty

100% Secure Checkout