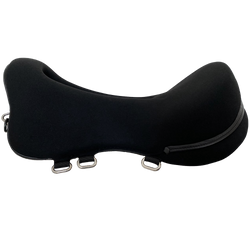 Balente PRO B- Black
$963 (excl. VAT)
$1,297 (excl. VAT)
Product Details:
The saddle structure is built with flexible registered plastic and covered entirely with neoprene, with stainless steel hardware to attach horse accessories.
Neoprene is a stretchy and resilient substance that is usually used in producing high-class sportswear and products. The material is resistant to water, chemicals and high temperature and its non-susceptibility to moisture makes it an ideal choice for moist and humid environments for endurance and long distance racing.
A touch of grainy and textured surface with the spongy and well-cushioned seat adds to the sporty and athletic look, while the plastic build provides the needed flexibility and a strong structure. The added benefit of the shock protection property of neoprene offers a relaxed and comfortable ride.
• Weight: 1.5 Kg
• Cantle Height: Low cantle
• Materials: Flexible Registered Plastic and Neoprene
• Domain: Endurance

NOTE: 
1. The saddle comes with Biothane Saddle Straps.
2. The height of the cantle depends on the preference of the rider. A high cantle offers a deep and secure seat that helps ride in suspension and encourages a good posture. A low cantle has a shallow and flatter seat that allows easy maneuverability and more movement.
3. Additional weight up to 9 kg can be added to the saddle with an extra price of €10/kg
Shipping Worldwide

Returns Worldwide

12-Month Warranty

100% Secure Checkout