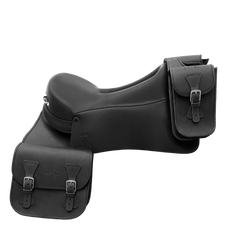 Balente SB Safari
Product Code:

104.SBS.BL1
Product Details:
The saddle is manufactured with a special composite of flexible registered plastic material and is covered with pure Italian leather. The design is based on Balente SB saddle and comes equipped with the front and back saddlebags. The flaps can be customized with black or brown leather flaps. The short rectangular flaps cover the ring tabs and stirrup tabs, providing ideal support, security and comfort without limiting the direct contact with the horse. This model is suitable for long distance rides, equestrian tourism and trekking, with the convenience of carrying the necessities on the ride.
Saddle Weight: 1.5 kg
Front saddlebag weight:  0.935 kg
Back saddlebag weight: 1.685 kg
Total Weight: 

6.74 KG

One set of front saddlebags and one

 

set of back saddlebags
High cantle or low cantle
Materials: registered plastic material, Italian leather, steel
Seat: Leather
Domains: Endurance/Trekking
NOTE:
The saddle includes biothane straps.
It is possible to add up to 9 kg of weight to the saddle with an additional price of 10 euros/kg.
Whether to get a low or high cantle on your saddle will usually depend on a couple of factors. Generally, a higher cantle gives you a deeper, more secure seat and offers a little more support for your lower Whereas a lower cantle allows for more movement on the seat.
Shipping Worldwide

Returns Worldwide

12-Month Warranty

100% Secure Checkout