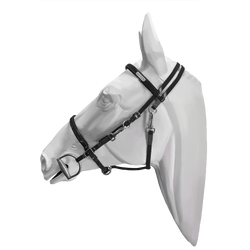 Bridle with Clasp Diamond
Product Code:

325.12.BL101
Product Details:
Bridle with clasp, made with Diamond Biothane, is a hard and shiny surfaced material that is waterproof, weatherproof and durable.
The noseband goes around the muzzle passes over the forehead and behind the ears and connects with the strap on the either side of the head where it is attached with the clasp. The crownpiece is clasped with a strap coming from behind the ears is clasped with another The clasps on the cheekbones offer convenience and ease as the bit can be removed just by unclasping the bridle.
The dynamic and minimalistic design of the bridle facilitates control and easy steering of the horse. It comes in a standard size that is adjustable and can fit any and every horse.
Shipping Worldwide

Returns Worldwide

12-Month Warranty

100% Secure Checkout