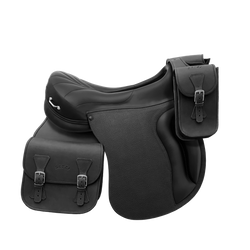 Narami B Safari
Product Details:
Covered with pure Italian leather, the design is based on the Narami B saddle and comes equipped with the front and back saddlebags. The flaps are 37 cm in length but are customizable upon request for an additional charge. The double front knee rolls provide balance to the rider in extreme situation and the flaps supports the leg of the rider. It can be used without boots or gaiters. This model is suitable for long distance rides, equestrian tourism and trekking, with the convenience of carrying the necessities on the ride.
Weight: 2.6 kg 
Front saddlebag weight:  0.935 kg
Back saddlebag weight: 1.685 kg
Total weight: 7.84 KG
One set of front saddlebags and one

 

set of back saddlebags
Low cantle
Materials: Italian leather
Seat: Leather
Flaps: Black or brown color (37 cm)
Front Knee rolls
Domain: Endurance/Trekking
NOTE:
The saddle includes biothane straps.
It is possible to add up to 9 kg of weight to the saddle with an additional price of 10 euros/kg.
The saddle can be customized combining different leather colors.
Whether to get a low or high cantle on your saddle will usually depend on a couple of factors. Generally, a higher cantle gives you a deeper, more secure seat and offers a little more support for your lower Whereas a lower cantle allows for more movement on the seat.
Shipping Worldwide

Returns Worldwide

12-Month Warranty

100% Secure Checkout