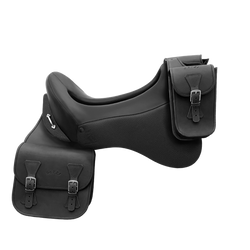 Shardana Safari
Product Details:
A saddle made of pure Italian leather that can be customized with black or brown flaps. The Shardana Safari model was developed for the purpose of day-to-day walking and work riding, equipped with four front bells and five back bells. The design permits greater stability with its sturdy composition, which is especially suitable for beginners. The saddle is reminiscent of the old American military saddle, suited for soldiers who had to ride on horses for long hours. Ideal for any pace, the long hole in the center facilitates continuous circulation of air to the back of the horse providing sufficient relief to the rider. From all our saddle designs, this model has the deepest seat.
Weight: 3 kg
Front saddlebag weight:  0.935 kg
Back saddlebag weight: 1.685 kg
Total weight:

8.24 Kg

One set of front saddlebags and one

 

set of back saddlebags
High cantle
Materials: registered plastic material, Italian leather, steel
Seat: Leather
Domains: Endurance/Trekking
NOTE:
The saddle includes biothane straps.
It is possible to add up to 9 kg of weight to the saddle with an additional price of 10 euros/kg.
Whether to get a lowor high cantle on your saddle will usually depend on a couple of factors. Generally, a higher cantle gives you a deeper, more secure seat and offers a little more support for your lower Whereas a lower cantle allows for more movement on the seat.
Shipping Worldwide

Returns Worldwide

12-Month Warranty

100% Secure Checkout